Weddings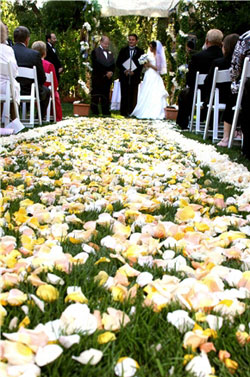 Our English Garden Event Site is magnificent! It is perfect for weddings and receptions up to 125 guests. Each gazebo, tree and fountain sparkles with flowers and fairy lights. The ambiance is elegant and the fountains are lovely to see and hear. We would be delighted to schedule you a private viewing. Please call (707) 263-4317 to make the arranagements.
Our wedding package includes a chilled "Sparking Pear" punch seved in an antique silver punchbowl as a gift to the wedding couple.
Our magical, elegant location for your wedding plus 9 elegant rooms for a fantastic total of $5000.. For more details view the Wedding Contract. Call the wedding staff at Lakeport English Inn for more details.
.
Photo Gallery Below